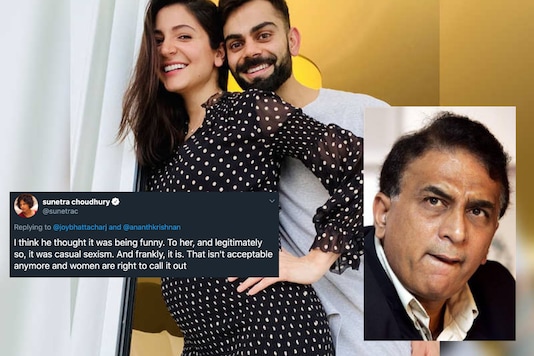 Following controversy after Sunil Gavaskar's comments on Anushka Sharma, the veteran cricketer has clarified he was not trying to be sexist but that he was actually stressing on the lack of practice that players had due to the lockdown.
News18.com

Last Updated: September 25, 2020, 8:29 PM IST


FOLLOW US ON:

Veteran cricketer Sunil Gavaskar has been facing flak time for making a comment about Bollywood actress Anushka Sharma while commentating in a Royal Challengers Bengaluru match.
While commenting on the Indian as well as RCB captain and Sharma's husband Virat Kohli, Gavaskar said, during the lockdown, Virat has been practicing with Anushka.
The comment caused massive outrage with many calling for Gavaskar's dismissal from the commentary box for the rest of the 2020's IPL season. Even Anushka Sharma took to social media to put out a statement, blasting Gavaskar for his crass observations.
The veteran cricketer has since clarified that he was talking about a video of Sharma and Kohli playing cricket at home which had gone viral during the lockdown.
"As you hear from the commentary, Aakash (Chopra) and I were doing commentary for the Hindi channel. And Aakash was talking about the fact that there has been very little chance for proper practice for everybody. That has actually shown in the rustiness of some of the players in their first matches," Gavaskar told India Today.
He stressed on the fact that he was not trying to be sexist but that he was actually stressing on the lack of practice that players had had due to the lockdown.
"Virat also had no practice and the only practice that they had when they have seen them playing in their building compound and Anushka was bowling to him. That's what I said. That's the only bowling, I have not used any other word," he said.
Clarifying further, he said, "She was bowling to him, that's all. Where am I blaming her? Where am I being sexist in this?".
Gavaskar's clarification has polarised public opinion, especially on Twitter where it has become a major talking point between men and women. Many on Twitter, especially men, agreed to the clarification put forth by Gavaskar was adequate and that he, indeed, was not being sexist. Many are now calling for an apology for Sharma for writing "long posts" in an apparent attempt to victimise herself.
Women, however, took a very different view of the incident. Journalist Sunethra Choudhury said that despite the "context", (the video) the fact that Gavaskar mentioned Sharma at all, just to be funny, was a clear example of casual sexism.
Not just women, several men also took Sharma's side.
Meanwhile, Sharma herself has hit out at trolls including Gavaskar, stating that she doesn't want her silence to be mistaken as her weakness and pointed out instances when she was blamed for the performance of the Indian national team. "I am not and will not be a pawn to be used by anyone's thoughts or beliefs or agendas and next time you want to use my name to discredit someone or the board or even my husband, do it with facts and proof & leave me OUT of it I have led my life, built my own career with utmost dignity and I am not going to compromise that for anything. Maybe, it's hard for some to believe that. because, I am a self-made, independent woman who only happens to be the wife of a cricketer. … and for the record, I drink coffee," her post on Instagram read.