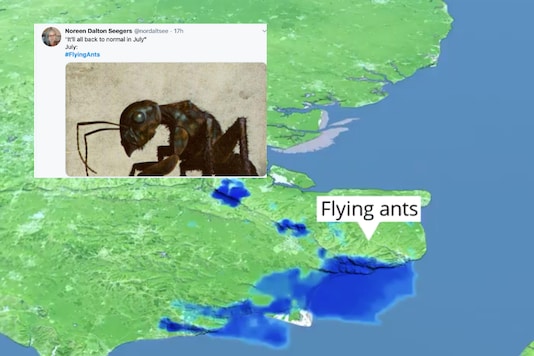 Britain celebrated 'Flying Ants Day' to observe the annual emergence of flying ants across UK.
News18.com

Last Updated: July 20, 2020, 9:06 AM IST
While Indians may be fighting swarms of locusts that have recently been invading several northern states, it seems the United Kingdom has been facing its own set of swarming pests – flying ants.
On Friday morning, swarms of flying ants covered the skies in several parts of UK including London, Kent and Sussex. In fact, the ants emerged in such numbers that the UK Met Office's radars were hoodwinked into believing it was rain.
"It's not raining in London, Kent or Sussex, but our radar says otherwise…The radar is actually picking up a swarm of #flyingants across the southeast," the Met Office tweeted.
"During the summer ants can take to the skies in a mass emergence usually on warm, humid and windless days," they added.
The swarm was seen for nearly two hours on Friday morning. Weather forecasters, however, confirmed that no rain had occurred in the areas.
Social media was full of images of the flying ants. Much like Indians who post hundreds of photos of locusts on Twitter, UK residents also took to Twitter to share images of flying ants under the hashtag #FlyingAntsDay.
Many jokes and memes followed.
This is not the first time that flying ants have taken to the skies in Britain. The phenomenon is an annual event that occurs when female and ants leave their nests to breed in order to start new colonies, CNN reported.