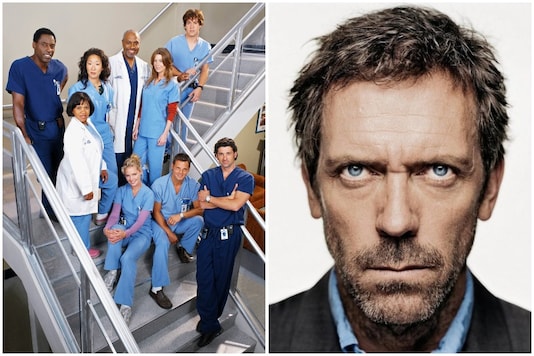 On Doctors' `day 2020, here's looking back at some of the most popular and all-time favourite medical shows.
Trending Desk

Last Updated: June 30, 2020, 7:53 PM IST
National Doctor's Day is observed on July 1 to express gratitude for their hard work. The job profile of a doctor involves just more than giving medicine. Doctors have pledged to serve selflessly and tirelessly to save lives just how they have been on the job during the ongoing global pandemic. The importance and respect for the doctors have inspired many film and series makers. Stories of different kinds representing a day in the life of a doctor have been often told by means of different mediums.
To celebrate the occasion, here's looking back at some of the most popular and all-time favourite medical shows.
House
The original pitch of the story was a doctor who solves mysterious cases, simply. Critics believe that House is the best medical show ever and it is not wrong to say as the show was brilliantly written and acted. House ruled the airwaves for nearly eight years and had Hugh Laurie, Olivia Wilde, Sela Ward, Chi McBride play important roles. The show won several awards including Best Drama, Best Actor for the protagonist, Laurie. It was nominated for both Golden Globes and Emmy.
ER
When it comes to popular TV medical shows, nothing beats E.R. The show, which was headlined by George Clooney, had an eventful run of over 15 years. The series had a lot of drama, comedy, and more all in one large emergency room. Created by author Michael Crichton, ER is a highly recommended TV to see at every level of artistic achievement. Julianne Margulies, Noah Wylie, Anthony Edward and Alex Kingston were the other important members in the show. ER was honoured with Best Series, and Best Actor and Actresses (Emmy and Golden Globes), among others.
Grey's Anatomy
Every show belongs to a certain planet of thoughts and circumstances. However, nothing matches the distinct emotion and experience while watching the medical staff on the screen. The strong and very smart women doctors were this show's staple. Started airing in 2005, Grey's Anatomy is a long running one as it rolls on to date, still popular. The opera of sorts featured Ellen Pompeo, Patrick Dempsey, Katherine Heigl and Jeffery Dean Morgan in pivotal roles. Apart from several nominations, the show has the best drama and best actress awards to its name.
MASH
No, we didn't forget to mention this one. How could the highest-rated shows in U.S. television history be forgotten? While some of you reading this, could be too young to have watched an episode on air, but rest-assured, this one you don't want to miss. Based on the Robert Altman movie of the same name, these are classics that never grow old. Alan Alda became a mega star as the Chief surgeon, Benjamin Franklin who used his wise cracking wits to remain sane. The show had an eleven year run with incredible performances by Wayne Rogers and Loretta Swit as other characters. MASH got nominated at Golden Globe and Emmy and Alda received Best Comedy and Best Actor.
Scrubs
The show often veered into dramatic storylines and has been praised for its accuracy of medicine. The story of John Michael "J.D" Dorian as he begins his medical career, strives for slightly absurd comedy first and foremost and it's obvious why. Zach Braff, the protagonist of the show, collected the Best Actor award. The show had other artists in brief appearances including Brendan Fraser, Heather Graham, and Colin Farrell.
Source link